...aaaaanyway, yesterday was the Monash Uni (caulfield campus) Open Day, to which I went with Helen! I found it really helpful in solidifying some stuff I knew and also, learning about some new things. For example, I had no idea that the multimedia course was ENTER-based!:O No interview/folio-presentation required... Yay! ...The open day seemed to have adverse effects on Helen though. It seems that it confused her
more
instead... がんばってねちんいきち!しっかり! It'll all work out!
The faculties had set up displays showcasing student works and such. There was also a lot of candy up for grabs. What struck me most, however, was a display from the visual art faculty in which a box of lego was presented on a table, along with a sign which read, 'What does art mean to you in a few blocks?'
I made a smiley face! For me, Art would be... happiness (I think) because art makes me... happy!(duh.) Due to my poor colour selection, it turned out to look more like a frog... but sure, anything goes, I guess. ;)
Then, we went out for some lunch. Since the Korean restaurant was closed and Helen hadn't tried Thai before, we ended up at KFC and had dessert at the Gloria Jeans next door. Now, what I'm about may shock or surprise you but... Helen (yes, Helen Oh in yr12 at MWSC) treated
me
at Gloria Jeans! The tables were turned! Not only was I the one being treated, it was
Helen
doing the treating! (Helen = the person I treat the most + very economical) I'm still in shock... but thank you, Helen!♥♥♥ Being treated is fun... I should do it more often! (too bad it doesn't really work that way..)
Then, I had to go home to finish off viscom since the final of presentation 1 was due today!:( I'm thankful that I managed to finish with time for sleep (instead of pulling an allnighter, like with the last folio..) but I'm not entirely happy with it... so I'll probably refine it a bit more sometime later.:) Here's a little snippet from the full piece though;
The scales on the armour took a while... but I think it was worth the time/effort.:)
...........................................................................................................
Now to add onto my collection of 'shaped' food, (refer to the post I made on the 8th, July if you have no idea what I'm talking about) I present...
Fish heart! Eww... I mean, Heart-shaped fish?:S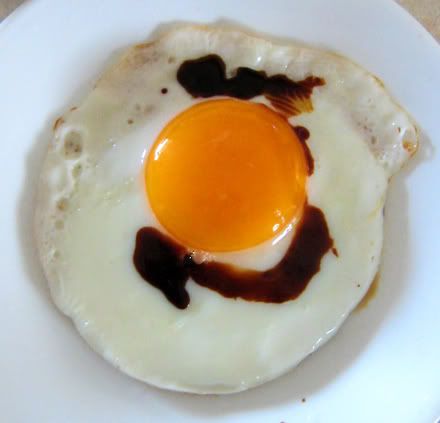 Egg Smiley-face!:)
(Explanation for those who can't see it: The yolk is a huge nose, sort of clown-like. Then, the 3 splats of soy sauce are the eyes if you focus on the clearer splats.) ...and okay, fine! I guess it isn't

that

clear that it's a smiley-face... but I didn't intend it to be! It just turned out like that... so it's a pretty good smiley-face for a coincidental one!
Consumed at different times between the 8th July post and now... I think.